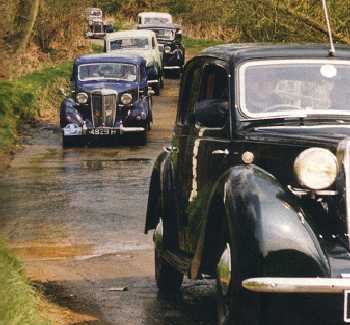 Under the bonnet of the elegant 1947 YA sports saloon was MG's overhead valve XPAG four valve 1,250cc engine, developed from the unit in the Morris Ten. The body was based on the contemporary Morris Eight Series E and the equivalent Wolseley Eight. The traditional vertical MG grille, sleek wings and sloping tail gave the YA a faster appearance and it handled well with rack and pinion steering and independent front suspension.

The YB was introduced in 1951 as an improved model with upgraded running gear, smaller diameter road wheels and subtle bodywork changes. The attractive YT was an open four-seater tourer version of the YA intended for export sales. Twin carburettors gave it a little more power than the YA and YB.

Today the YA and YB sports saloons are popular MGs and the rare YT tourer is especially desirable.
Y Type facts
Produced: YA 1947-51, YB 1951-53 and YT 1948-50.
Bodywork: YA/YB four door saloon and YT two door open tourer.
Engine: YA/YB: four cylinder in line overhead valve 1,250cc engine with a single SU carburettor producing 46bhp. YT: four cylinder in line overhead valve 1,250cc engine with twin SU carburettors producing 54bhp.
0-60 mph: YA: 28+ secs and YB/YT 25+ secs.
Top speed: YA/YB: 70mph and YT 75mph.
Fuel consumption: 25-30 mpg
Production: Produced from1947 to 1953.
Number produced: A total of 8,336 cars were produced with the likely split being 6,158 YAs, 1,301 YBs and 877 YTs.
Spares availability: The spares suppliers are very active so the majorty of mechanical parts are available. However, body panels are difficult to come by and often have to be reconditioned or secondhand parts sought.
Garage fit? L 13ft 5" (4.089m) x W 5ft 0" (1.52m) x H 4ft 9" (1.448m).
Prices
YA/YB: £1,000 to £6,000 plus.
YT: £2,000 to £10,000 plus.

More MG Y Type information and support

So you want to buy an MG Y Type?
Definitive buying guide published in the August 2007 issue of Safety Fast! More

Which brake fluid?
A comprehensive article from Bob Owen on mineral and silicone brake fluids published in January 2009 issue of Safety Fast! More

MG Y-Type Register - MG Car Club
Website