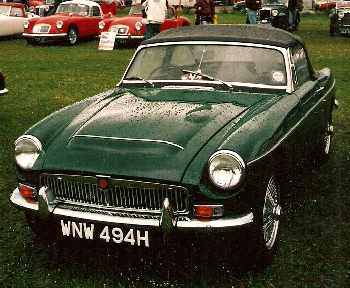 Launched in 1967 in both Roadster and GT versions as a replacement for the Austin-Healey 3000, the MGC had a mixed reception from the press despite a a top speed of 120mph and more. With a straight six 2912cc 150bhp engine providing good low speed torque and relaxed cruising, it was seen as a useful long-legged touring car. The other main changes from the MGB were a revised front suspension (using torsion bars instead of coil springs), a "power bulge" in the bonnet to accommodate a radiator located further forward for the larger engine, a much stronger rear axle and all synchromesh transmission to deal with the increase in power, and increased spring rates front and rear and a new stronger to cope with the extra power and weight. Like the MGB there was an optional Borg Warner Type 35 automatic transmission.

But press reviewers were critical of the MGC's nose-heavy handling and lazy acceleration and felt it looked too much like an MGB. In many ways the MGC should have seen strong sales because the package provided a significant improvement in performance compared with the MGB and at a similar price. Unfortunately the MGC production run was brief and ended in August 1969. As MG had by then become part of the British Leyland Group, where Triumph cars were favoured by the management team, many suspect the open top Triumph TR6 was their preferred big engined sportscar.

Today modern tyres and parts from tuning specialists have improved the handling and the model is much sought after by MGC enthusiasts.
MGC facts
Produced: 1967 to 1969
Bodywork: Two door open sports roadster and GT.
Engine: Six cylinder in line pushrod OHV "C" series 2912cc engine with twin SU HS6 carburettors producing 145bhp.
0-60 mph: 10 secs
Top speed: 120 mph plus.
Fuel consumption: 20-27 mpg
Production: Pre-production cars were produced in 1966 with production launched in October/November 1967. Production ended in August 1969.
Specification: Front discs brakes at the front and drums at the back, 15 inch steel disc bolt-on or wire wheels, a four speed gearbox (later revised in 1968) and an overdrive.
Number produced: A total of 8,999 cars were produced in Roadster (4,542) and GT (4,457) forms, with 47% of production exported to the North American market.
Spares availability: The MGC shares much with the MGB so availability is good. The MGC spares situation has continued to improve over recent years with most recently the tooling for king pins and fans.
Garage fit? L 12ft 9" (3.89m) x W 5ft 0" (1.52m) x H 4ft 1" (1.27m).
Prices
Roadsters: £5,000 to £20,000
GTs: £4,000 to £18,000

More MGC information and support

So you want to buy an MGC?
Definitive buying guide published in the December 2007 issue of Safety Fast! More

MGC road test
From Motor on 4th November 1967. More

Advance Information brochure for the MGC Sports & GT
Brochure issued in 1967 with the message "much more than meets the eye!!!" More

Technical Notes for an MGC
Useful technical notes for the MGC enthusiast. More